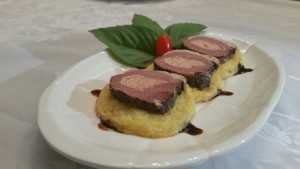 This recipe can be used as an untraditional and innovative starter to impress your guests and let them discover new flavors and new ways to taste the singularity of La Ferme St Jacques's magret fourré au foie gras
Servings

Prep Time

4

people

10

min
Servings

Prep Time

4

people

10

min
This recipe can be used as an untraditional and innovative starter to impress your guests and let them discover new flavors and new ways to taste the singularity of La Ferme St Jacques's magret fourré au foie gras

Servings

Prep Time

4

people

10

min

Servings

Prep Time

4

people

10

min
Cook the potatoes in boiling water. Mash it with St Jacques duck fat, crème fraiche, nutmeg, salt, pepper. Mix until you have a smooth purée.

Hot a pan, add olive oil, and brown puree circles (40sec to 1 min on each side) and let it stand for 5 minutes.

Proceed with the plating by adding 3 drops of balsamic reduction on the potatoes circles, then place the slices of St. Jacque's magret fourré au foie gras on the potatoe cirlces.

You can use basil or mynth leaves and cherry tomato for decoration.
Bon Appétit!
From La Fermre St Jacques